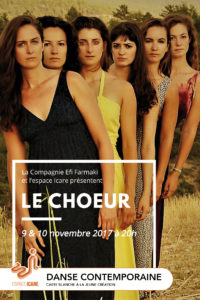 Efi Farmaki Company presents its creation The Chorus for the first time in its entirety on November 9th and 10th, at Espace Icare in Issy-les-Moulineaux.
The Company, after several months of residence at Entrepont, cultural center located in Issy-les-Moulineaux, was selected by the Espace Icare for its Carte Blanche program at Jeune Création. Thus, for one year, the company is welcomed at Espace Icare's premises and benefits from logistical and administrative support.
Also, last year, the choreographer Efi Farmaki was part of the promotion 2016-17 of the choreographer's incubator of La Fabrique de la Danse. This program has helped the choreographer in all stages of the creation of her show, from the birth of the artistic intention, until the next presentation to the public.
After presenting several stages of the creation of The Chorus, especially on May 11, 2017 at the Choreographer's Night of La Fabrique de la Danse at Carreau de Temple, or on May 12 & 13, 2017 at the Contemporary Movement Festival at the Théâtre Douze and At the Micadanses studio in Paris, the company Efi Farmaki unveils for the first time his work of 40 minutes in its entirety.
Description of the piece:
The choreographic and vocal piece The Chorus goes through the process of establishing the group's identity, exploring the way in which human societies were formed through collective rituals. How do social groups work? What are the interactions, the tensions between the group and the individual? On stage, an imaginary tribe of women is animated by a continuous mechanism of change, in perpetual quest for balance.
A meeting is organized around a pot at the end of each performance. This is an opportunity to meet artists who will be happy to answer questions about creation.
Useful information :
– Date: November 9 and 10, 2017 at 8 pm
– Location: Espace Icare, 31 bd Gambetta, 92130 Issy-les-Moulineaux
– Rates: 12 € / 14 €
– Information and reservations: 01 40 93 44 50 or www.billetreduc.com